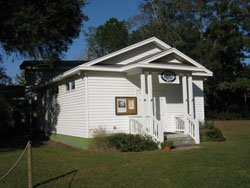 Not far from the beach but a world away you will find the Edisto Island Museum. Since 1986 the Edisto Island Historic Preservation Society has been working to preserve Edisto's culture and environment. In 1988 an anonymous donor handed over a historic home on Chisolm Plantation Road giving the society a home, but that was just the beginning.
Since then the Edisto Island Historic Preservation Society has continued to renovate and expand their facility. What started as a house with no heat or air conditioning now stands as a respected museum hosting a number of events each year. To view current events, click here.
While the facility serves as a centerpiece, the EIHPS outreach efforts are as impressive. In addition to searching for artifacts to expand the museum's collection, their work can be felt all over the island. A cemetery fund helps clean and maintain isolated cemeteries far from museum walls. The group works to make sure new development such as communications towers and road projects are not intrusive and that historical locations are not misused.
It is impossible to cover everything that the museum offers here, so take any Tuesday through Saturday from 1:00 – 4:00 to visit. Cost of admission for adults is $4.00, seniors get in for $3.00 and children under ten are free. Their address can be found below.
Edisto Island Museum
8123 Chisolm Plantation Rd
Charleston, SC 29438