Apr
15
2013
Weather Report: April 13, 2013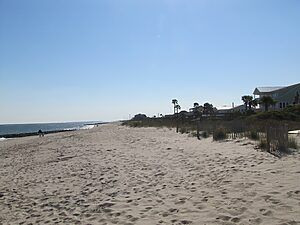 Perfect weather Saturday was welcomed by all those who got together for the bi-annual beach clean-up, but it looks like that weather might be short-lived.
Today will be mostly cloudy with a high of 74 degrees. There is a slight chance of rain, but it should stay away for the most part. The low for tonight is 63 degrees.
Some scattered storms move into the area Monday along with a 70 percent chance of rain. The high Monday should be around 70 degrees with a low of 60 degrees.
The storms should move out by Tuesday, but the clouds will remain. The high for Tuesday is 75 degrees with a low of 60 degrees.
Wednesday and Thursday should have a good mix of clouds and sun along with highs in the mid-70s. Lows will be in the mid-to-low 60s. There is a slight chance for rain on both days.
Storms might roll in again by Friday. The high Friday is 75 degrees with a low of 56 degrees. There is a 30 percent chance of rain Friday.
If you're in the area and didn't get the chance to take part in the beach clean-up, you can still make sure the beach stays clean. Here are some easy ways to do your part:
Bring a plastic bag each time you go down to the beach and pick up any trash you might see even if it isn't yours. Anything left behind can be hazardous to marine life, plus, nobody wants trash on Edisto Beach. There are trash cans at each beach access.
Fill in any holes that might have been dug by children making sandcastles or dogs. These don't make the beach dirty by any means, but they help the sea turtles out during their nesting time.
Adopt a beach access. This means that you'll be assigned to an access and will be required to report any sort of damage or problems at the access. Contact the town administrator at 869-2505 for more information about adopting a beach access.
Categories
Plan Your Next Visit
Search Seabrook Island Vacation Homes
Book Now