Jun
22
2012
Weather Report: June 22, 2012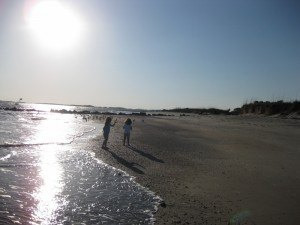 This past week here on Edisto has been nothing short of perfect. With temperatures in the low 80s, not a cloud in the sky, and abundant sunshine the summer we all know and love was in full effect.
Some clouds have rolled in now, but shouldn't stick around too long. The high for today is forecasted to be 85 with a low of 74. There is a 10 percent chance of rain.
Saturday's high will be in the high-80s with a low of 75 degrees. There is a 10 percent chance of rain, but the day should be mostly sunny.
Sunday will also have a high in the upper 80s and carry with it just a slight chance for a rain shower or two, but the day should be mostly sunny.
The rest of the week will have highs in the mid-80s and there will be a chance for some isolated thunderstorms – typical forecast for this time of year. But overall this week's forecast looks to be a nice one with solid summer temperatures, just a little bit of rain to cool things off, and enough sunshine for everybody to go home with a tan.
If you're already in the area and taking advantage of this great weather, you might also want to take advantage of some of the things going on today and the rest of the week.
Today from 3-5 p.m. authors Mary Alice Monroe and Jim Harrison will be performing a book signing at the Edisto Bookstore on Highway 174. Monroe is the author of "Beach House Memories" and Harrison is the author of "The Palmetto and its South Carolina Home."
Today is also the kick-off for the 5th annual Tomato Open Golf Tournament at the Plantation Course located in the Wyndham Resort. There will be a cocktail party tonight along with a live auction at 7 p.m. Registration for the tournament begins at 7:30 a.m. June 23 and the event will begin with a shotgun start at 8:45 a.m.
Categories
Plan Your Next Visit
Search Seabrook Island Vacation Homes
Book Now